Kyles Videos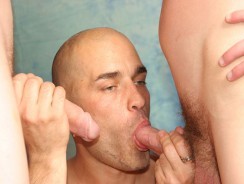 JUB Site Rating:
0 total vote





Kyles Videos's Billing & Pricing
Kyles Videos's primary billing processor: In House
Monthly Membership - $28.32
3 Months - Only $59.32
VISIT Kyles Videos NOW!
To give the site its full title: Kyle Kravin's Amateur Videos. This site is one in the Magnus Network and I've seen some of their other sites recently. I remember being impressed with them and thinking that this set of sties were soon going to be big in the world of gay porn. It will be interesting to see how Kyle's site matches up as I take a look inside...
There's a neat design in the members' area with everything laid out in sensible sized thumbnail pics and links over to five bonus sites at the side and bottom of the page. The latest updates are listed and there's a very simple menu that will take you to the videos and photos.
There were thirty vids when I was in the site and these were laid out eight to a page. Each one comes in a choice of three connection speeds with the lowest one being selected by default. As soon as you find a movie you want to see, simply click it and the next page holds your viewing options. At 384 x 216 and at 84 kbps the dial up connection stream isn't very easy to watch but if that's all you have at least you will be able to access it reasonably quickly. The mid range 384 x 216 @ 395 kbps was better though still on the small size to my mind but the full size 576 x 324 @ 762 kbps was fine, though slightly pixilated at times when at full screen.
When you hit upon a video it will start straight away from the beginning but if you scroll down the page you will also find that you can jump directly to a segment and there is a good sized picture there to show you the action from each one.
Now then, the Magnus Network has some other sites that deal with particular fetishes and, although you can access all the sites in the network with one set of membership details, they also share some of the videos around. Kyles Videos concentrates on the amateur side of things with first timers and 'ordinary' looking guys (with nice bodies and big cocks in some cases). But in here you will also find some fetish movies, like cum swapping and cock docking that have come from the other networked sites. The same viewing options and high quality production applies though so it's not an issue.
Make sure you also check out the video library - though there was only one other video in there during my visit. You'll find the link on the top of the videos index pages. And then there are the 14 image galleries to view too. Individual images click up to 600 x 900 and the quality is fine. Each of these and the videos can be stored to your favourites collection and you'll find the link on the left menu. After all that there are still the bonus sites - with shemales, bareback and CreamPie sites on offer to go and enjoy. The only thing that I didn't like too much was the navigation. I had to use my back button a lot to get back to the various index pages as the only link from, say a video page, was back to page one of the videos, images or the home page. Not a great problem now but when the site gets bigger it might become one.
Bottom Line:
There is a reasonable amount of content here and it's exclusive and well made. The guys are real amateurs with some hot looking men and some ordinary, slightly chubby, him-next-door types too. I did notice that the last updates appeared over a month prior to my visit, so that is something for you to keep an eye on.
VISIT Kyles Videos NOW!
VISIT Kyles Videos NOW!