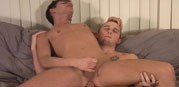 0 total vote





Updated: 2007-10-05
Currently No Galleries
Currently No Videos
Aces Bedroom's Billing & Pricing
Aces Bedroom's primary billing processor:
Ccbill
$29.95 for 30 days - Renews at $29.95 per month until canceled.
$72.00 for 90 days - Renews at $72.00 per 90 days until canceled.
$34.95 for 30 days
$48.00 for 60 days - One Time charge.
VISIT Aces Bedroom NOW!
Skater boy Ace invites you to take a good look around his bedroom and witness all the filthy things that go on in there. Actually filthy is a strange word for me to use as the first sample on the tour shows Ace in the bath with a dildo so that's kind of clean, and dirty I guess. Anyway, the tour certainly makes the site look exciting and I'm looking forward to taking a good look at the sexual habits of this cute 18 year old.

There's a good feel to the members' area, or should I say Ace's bedroom, with his own style of presentation and fonts. You basically have four areas to check out with a photography one promised soon. In the meantime you have:

Videos and screen caps. (I like the way he calls them screen caps and doesn't try and pass them off as photo galleries.) There were 12 videos when I was in the site and I'll say this - they are exclusive, you won't see these anywhere else. They range in length from nine minutes to 24 but most are around 20 minutes in length, which s a good run time. Four of the movies featured only Ace and his toys but they're hot enough, the others have him and a friend. I sampled the one with him and his mate Frankie for no other reason that my mouse was over it at the time. I was taken first to the screen cap galleries where I found good size thumbnails that enlarged to 720 x 480 sized images. (Most of the sets have over 100 images in them.) There were three different speeds at which to stream the video clip from Broadband (720 x 480 @ 1.25 Mbps) down to dial up (240 x 180 @ 69 kbps - bring a magnifying glass) with the DSL/Cable version being in the middle at 480 x 360 and @ 560 kbps, which was fine.

The hand held camera work was ok - not brilliant but then it gave the movie more of a reality feel. The soundtrack helped with this too, it was perfectly natural and you could hear everything from the kissing to the cars out in the street. The other good thing about this collection, apart from sexy Ace, is the fact that he is so versatile. In some movies he's the top and in others he's getting fucked and he seems to enjoy both just as much. So what if there are not a lot of videos on the site as yet, what you do have are original, reasonably well made and totally horny.

There is more video content on the blog page. Here I found three blog entries that were in video format. There was only one choice of connection speed for these and the buffering took a while as it's the top notch, broadband connection. You'll also find more news over on the news page which basically lists the previous updates. Judging by this the site started in July 2007, so there's a reasonable amount of content on it considering the short period of time it has been with us. To see what's happening next go to the Updates page. I found that there was a new video on its way and the due date was stated. That's a touch I approve of as it allows me to check that the webmasters are keeping to their promises.

Bottom Line:
I liked this site and I really hope it does well. The main man is cute and if you like them young and streetwise you'll fall for him instantly - his partners are pretty hot too. There's a very friendly feel to the site and it's honest and appears to keep to its promises. Stick with it as it's going to go on to great things.
VISIT Aces Bedroom NOW!
There are 0 comments on this review
Login here to add your own comment:
VISIT Aces Bedroom NOW!