Straight Guys Are Broke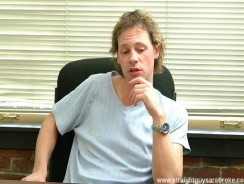 JUB Site Rating:
0 total vote





Straight Guys Are Broke's Billing & Pricing
Straight Guys Are Broke's primary billing processor: In House
Straight Guys Are Broke's optional billing processor(s): Paycom
3 Day Trial - $1.00
5 Day Trial - $6.95
Monthly Membership - $29.97
VISIT Straight Guys Are Broke NOW!


I say 'some' as there were only 19 exclusive movies when I called in but updates are happening. What separates a good 'gay for pay' site from a bad one is the believability of the straight guys. If you start a scene with two guys making out and then getting down to the hardcore that's one thing; but if you start a scene with some chat, interview the straight guy and convince us, the viewer, that he is genuinely straight and up for some first time sex (and is actually in need of the cash reward), well that's when things get really interesting. And that's what happens here. Take the time to listen to the intros and the start of each movie and you will enjoy them all the more.

The guys here are varied too and there are some great older guy with twink movies, plus many amateur and 'off the street' looking men. Just what you want to see on a reality site; real people. You get a couple of choices of viewing with streams and downloads; there are clips and full length scenes too, and you can expect a low resolution at 511kbps @ 320 x 180 and a higher one at 1.40Mbps @ 640 x 360. These are in WMV format and some movies now have a high definition version too. Some are only full length but all are well put together and bring you the hot first time action you want to see.

As you go through the content you are able to rate it and add things to your favourites area. This applies to the bonus sites too as all the sites in this network have the same functions and a similar design. You can access the other 14 sites from the one bonus page making it easy to move around the network. And then you have the galleries to view as well - there are 19 of these with large images that can be viewed in a slideshow or taken individually. These are slightly more than just shots that follow the action though they do do that; you also have posed shots, so there are some collectable portraits and poses from your favourite guys.

So, add all that together - the exclusive episodes, the well stocked galleries, the extra bonus sites, the interactive functions, and then top it all up with a set of over 20 varied feed sites, and regular updates to each site... and you've got your monthly money's worth of hot porn, varied porn, good quality movies and all of it featuring some totally spunky straight guys. This may not be the largest or most original gay for pay site but it's doing really well and is competing in a growing market.

Bottom Line:
Straight Guys Are Broke, well they must be to do what they do here. There are a growing number of well made movies that are easy to view, they come with neat galleries, and there are loads of bonuses and extras to keep you happy while you wait for more exclusive content. This site does better than some as it takes the trouble to interview the straight boys before they start their adventure, and you feel like you're getting genuine first time performances; and ones that are not easily forgotten.
VISIT Straight Guys Are Broke NOW!
VISIT Straight Guys Are Broke NOW!