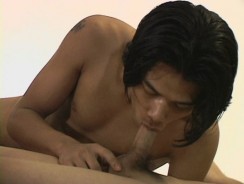 0 total vote





Updated: 2007-08-30
Primary Categories: Asian
Secondary Categories:
Asian Cock Stars's Billing & Pricing
Asian Cock Stars's primary billing processor:
Ccbill
3 Day Trial - $3.95 - Rebills at $29.95 Monthly
7 Day Trial - $9.95 - Rebills at $29.95 Monthly
Monthly Membership - $29.95 - Rebills at $29.95 Monthly
1 Month Only Membership - $39.95 (non-recurring)
VISIT Asian Cock Stars NOW!
Come on, own up. Who doesn't like to see two smooth and slim young Asian boys going all the way on video? Who can resist the exotic lure of Asian twinks in well produced photos and movies? All right then, who wants a new and exclusive video every week, feed sites, galleries and a well deigned site that concentrates on Asian guys aged 18 to 25?

Well I do and that's exactly what I've found at Asian Cock Stars. In fact I have 88 exclusive vids to drool over. Trying one at random I found two viewing formats: high and low, MPEG and WMV. I chose one and the page seemed to refresh so I clicked again expecting a streaming video. I then realised that to view the video you need to click the thumbnail of the scene and then you get the Open or Download dialogue box. Just watch out for that when you start on the vids; you're probably better off downloading rather than opening as then you can carry on browsing while you wait for the file. The files, by the way, varied in size from 10 to 50 Mbs depending on what the format and length of scene was.

The great thing about these videos, apart from the viewing options and the exclusivity, are the boys. I don't know how or where they find them but they're sensuous, young looking, and hard working - they make the sex last for a good length of time and really enjoy what they are doing. You have loads of duo action scenes here plus some with three of more guys, the locations varied but they are always exotic. The scenes I saw were well made and good quality and I was completely satisfied with the video content.

As indeed I was with the 80 photo sets. These had varying amounts of pics in each one but all the images I sampled click up to a good 750 x 356 size and were clear, well taken photos and not just screen caps. Most, if not all, of the galleries were posed, I mean not caught in action while a video was being filmed. There were studio set up and location shoots and the emphasis was always on the boy - rather than the sex. So what you end up with are some very erotic and top class image galleries with individual photos that would not look out of pace in a coffee table book. (Just don't let your grandma see some of the more suggestive ones.)

To compliment the vids and pics there are also the exclusive out-takes, the behind the scenes footage that you will only find on this site. This is fun to view as you can really get a feel for the boys as they prepare, chat, mess around and generally have fun making their movies. And then you have more photo sets - well, screen caps, and videos avowing the site's Stars 'in training' which, as far as I could see, meant having more hot sex with each other and being filmed doing so.

There were also some non-exclusive photos sets on the site; six cute Asian guys from elsewhere, and a link over to the Gay Asian video feed site. Back at the home page and you will find all the update news and links to support should you need it.

Bottom Line:
It's always good to find a site that keeps to its niche and delivers on its promises. And it's even better when that site has exclusive and good quality material. Even better still when it's young Asian guys and if you've got a big thing I your pants for a bit of Eastern Delight then this has got to be your next port of call. I can't fault it.
VISIT Asian Cock Stars NOW!
There are 0 comments on this review
Login here to add your own comment:
VISIT Asian Cock Stars NOW!