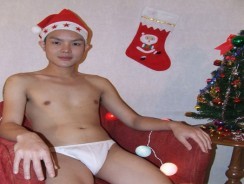 0 total vote





Updated: 2008-01-23
Primary Categories: Asian
Secondary Categories: Hardcore
Currently No Videos
Asian Guys's Billing & Pricing
Asian Guys's primary billing processor:
Ccbill
$9.95 - 7 day trial - rebills at $24.95
$24.95 - 30 days - auto rebill
VISIT Asian Guys NOW!
A site that broke ground for bringing exclusive Asian guys to the net on a regular basis is AsianGuys.com. Packed full of Thai, Filipino, Chinese, Japanese, and Vietnamese males of all ages it'm a virtual smorgasbord of delectable photos and videos of oriental cocks and ass.

The tour is warm, light and inviting, with some excellent examples of the Asian boys and men you'll find inside. Click any of the categories links to get a better idea of what is offered, as the same navigation groupings are used inside as well.

Once you login, you'll see a member page that is laid out to quickly show you the featured model, recent updates, future updates at the top of the page. As you move down you'll see an assortment of links and descriptions for all kinds of online galleries, bonus content and member contributions. I will say that this page is a bit overwhelming, and it takes awhile to figure out where the onsite content is versus all the links that go to contributor or upsell areas. My gut feeling is that new things are getting added and links and information squished in wherever they can make a spot for it on the home page.

Asian Guys content can be found in their Hardcore Video Gallery, Butts and Cocks, Foot Fetish, Japanese Hardcore and Solo Video Gallery sections. For those of you that especially appreciate cocks and asses, or have a fondness for feet, the site has two huge sections of galleries devoted to both of these categories. Additional features include exclusive Yaoi Art (Gay Anime) galleries and Asian erotica, some very nice Asian wallpapers in assorted screen sizes, and some adult games in the form of picture puzzles and a photo hunt. Bonus goodies include 8 DVD movies monthly for free via the AEBN system for Gay Asian and Latino Bambino.

I do not see the webcam area mentioned in the tour, so be aware that this isn't active yet onsite as of this review.

I will mention that the navigation wasn't the greatest as there are a lot of links that take you off site for various reasons, and you do need to back browser a lot as the links do not open in a new window. If you accidentally close a window off site the member site isn't open beneath it.

The Hardcore gallery has pages of vidcaps of various scenes from movies they've produced, along with teaser clips and links to where you can purchase or view the entire movie title. Clips are offered in three file sizes, 56k, 100k and 300k in .wmv format. As I mentioned, this section uses vidcaps, so the quality isn't that great as they try to present them rather large for a vidcap.

Photos in other gallery sections are thumbnail indexed, and you can right click and save the larger images. The solo area has well over 370 solo sets and many include clips of solo jackoffs. These are done in Quicktime format, and loaded quickly into an html page. The Japanese Hardcore is laid out pretty much the same way, with more videos than I cared to try and count. Content consists of both exclusive and licensed material, and you will find a lot of guys here that you won't see on other gay Asian sites.

Summary: Lots of Asian content available in both video and still photos. Quality is average with most of it having an amateurish flavor to it. There is a huge variety of scenes and models, along with some member interaction activities like penpals and personals, so there'm plenty to keep you entertained, and certainly worth the trial price.
VISIT Asian Guys NOW!
There are 0 comments on this review
Login here to add your own comment:
VISIT Asian Guys NOW!