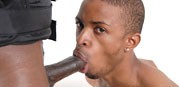 JUB Site Rating:





0 total vote





Updated: 2007-05-22
Primary Categories: Gay Shopp
Secondary Categories:
Currently No Galleries
Currently No Videos
Thugmart's Billing & Pricing
Thugmart's primary billing processor:
In House
This site sells DVD and VHS tapes delivered right to your home. Prices vary.
VISIT Thugmart NOW!
If you want to buy the hottest black and Latino gay DVDs in the world, this is a definite destination site for you! Pitbull Productions is now offering 38 of their top-selling XXX-rated movies on this site for sale. They give you a photo of the movie cover, a detailed and graphically explicit scene breakdown, the cast list and best of all, 38 XXX-rated movie previews that often run more than two minutes per film, all of which adds up to more than an hour of FREE hardcore teasers complete with rimming, fucking, sucking and money shots.

If you love Tiger Tyson, Supreme aka Castro, Dillon, Viper, Jason Tiya, Thugzilla and a virtual cornucopia of Blatino thugs a trip through thugmart.com is a lot of thugporn fun even if you don't buy a DVD. Also, check out their special sales. You can always find a great bargain and, if you get bored, you can link to many other outrageous X-rated web sites through their easy-to-use link section.
VISIT Thugmart NOW!
There are 0 comments on this review
Login here to add your own comment:
VISIT Thugmart NOW!