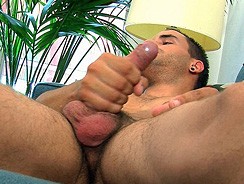 JUB Site Rating:





0 total vote





Updated: 2010-06-03
Primary Categories: Amateur
Dirty Tony's Billing & Pricing
Dirty Tony's primary billing processor:
Ccbill
$24.95 for one week non-recurring
$29.95 a month recurring at $18.95 a month
$99.95 for 150 days non-recurring
VISIT Dirty Tony NOW!
The more you explore Dirty Tony the more interesting it gets, and the easier to use. But it's not hard to start with, navigation and use I mean. It must have one of the most unique set-ups for navigation that I've seen in a long while, but more about that later. The backbone of the site is the dirty sex, well the hardcore at least, the guys and the things they get up to. There are weekly updates, so it stays fresh for you, there are movies and galleries and some extras too. And there are plenty of ways to find your way around and discover the exclusive porn.

Start at the home page to see what is new and recent, then click through the numbered index pages and you will find around 300 pieces of exclusive content. They are all sampled in the same way, with a big picture and a write up, title, upload date and tag words. The content is a mix of solo and hardcore, with some threesomes too and there is plenty of naked flesh, varied guys and all shapes and sizes of dicks.

So, with all this content you are going to need some help finding exactly what you want to see and that's where the nice, left hand column, navigation comes in. To start with there are drop down lists of the kind of action available, blow-job, anal etc. and there are categories that range from uncut to big dick, in reverse alphabetical order, the guys are arranged too in a list by their orientation; straight, gay, bisexual and 'curious' which sounds like a straight man's cop out to me, and you've got your content arranged by age of models too, from 18 to 37. If you want to see things by the month they were added, then you've got a list of months in the archive dating back to January 2005. These lists make it very simple to find exactly who and what you want to see.

And actually seeing it is not a problem either. I found Flash streams and the more modern the video the higher the resolution, as you might expect. I found I was also able to send in comments on what I'd seen, easily find the photo that go with the movies, read details about the boys and so on. In fact all your basic needs are met, including the ability to jump through the Flash stream, go full screen, and select which pat of the scene you want it to stream for you. The moviemaking standard is a good one, it's all very natural and laid back when the guys are chatting and doing solos, and the hardcore scenes are pretty full on and in your face - so I'm not complaining there.

And I am not going to complain about the extras either. There was one cam site where you were invited to sign up to join the fun, but then there was access to another Frat House cam site with archives and pics that you were already signed up to. You'll find links to dating sites too, and to Naked Dude, the porn blog. But best of all is the link to Tony's studio cam. He wasn't at work when I was in the site but I'm pretty sure that when he is this cam is on and you get to see the movies being made. That's a unique extra and worth the sign up fee on its own.

Bottom Line:
Good quality, exclusive, well made and downright horny amateur guys in perfect porn productions. You get a new one each week, there are some nifty extras and it's really easy to find exactly what you want to see from the stock of 600 or so originals. And, if you need any more incentive to click the join button, it's great value too.
VISIT Dirty Tony NOW!
There are 3 comments on this review
sheepbedamned January 23, 2012 - 02:51:08 (See all My Comments)

I ended up at dirtytony because of one thing, the bukkake videos. I love seeing a group of guys cum all over a sub guy's face after they each take turns getting sucked by him. All seemed perfect UNTIL the ending when out of nowhere a female voice says to the naked guys, one of whom's face is still oozing cum, "happy birthday to you." or some crap. Talk about a huge buzzkill! I did not need to know there was a woman on the set watching, or worse possibly running the camera crew!? This happens at the end of at least two of the bukkakes, Trey Thornton's and Trent Atkins' scenes. Thanks for ruining an otherwise hot masturbation experience for me. If we can't expect to get away from female interference even in ALL-MALE porn then that truly sucks! I won't be paying membership to this site.

Reply
itsasecret October 26, 2009 - 01:35:01 (See all My Comments)

this site is really crappy, first of all this guy Dexter on the home page is barely attractive, has a look of... (discomfort?) on his face... whats wrong with his chest? and his face looks deformed as well...during his video he looks very uncomfortable (not into what he's doing)...at least have someone attractive on the home page, and some REAL gay guys or straight guys who dont mind showing off for us- UNLIKE this Dexter guy...Tony should get rid of videos like this one

Reply
This site has some great models, but if you have Vista be careful. I could not view the vids and the site does state that Vista users may have problems. It did not mention that until AFTER I had already subscribed.

Reply
Login here to add your own comment:
VISIT Dirty Tony NOW!