1 Gay Pass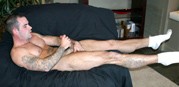 JUB Site Rating:
0 total vote





1 Gay Pass's Billing & Pricing
1 Gay Pass's primary billing processor: In House
1 Gay Pass's optional billing processor(s): Ccbill, Paycom
$9.95 one week (recurs at $35 per month) (recurring)
$29.95 for one month (recurring)
$69.95 for three months (non-recurring)
$99.95 for six months (non-recurring)
$149.95 for one year (non-recurring)
VISIT 1 Gay Pass NOW!
With their 1 Gay Pass members get to access five premium sites for the price of one and, as there are various memberships to consider, you're not only going to find one to suit you, but you are going to find good value too. These sites are Circle Jerk Boys, Boys Gone Bad, Men Over 30, Boyz Party and Extra Big Dicks.
I could site here and ramble on about each one and fill pages with text explaining how good the movies are, how they are exclusive, and how much of what you get where, but it would get rather repetitive after a while, because, having seen these sites, I can tell you that they are all easy to access, all well stocked and all original. Circle Jerk Boys has been around for years now and so that's one example of a site run by people who know what they are doing. Examples:
On your first page, after logging in, you have five columns, each one dedicated to one of the sites. This is a portal page and from here you can see what's coming soon, what's coming next week and what's going on with each of your sites. So bookmark this one as you will want to come back to it each time you head off to a new site.
(And also get your machine to remember your username and password as you will be asked for these each time too.)
CJB has a design which allows you to move around to the other sites from its homepage, another common feature in this set. You've got a scrolling list of recent content plus a link in the left frame to take you to the movies and galleries.
As with all the sites, you've got a choice for video viewing, with three kinds of players and four resolutions, generally speaking, and you've got good sample images to show you who and what is in each scene. Actually the 'who' are sexy, hung, smooth and straight looking guys and the 'what' is simply hardcore sex, anal, bareback, oral and everything you can think of in between.
And you have variety too. Up for some hot twink sex? Then try the Boyz Party where there are teens and twinks aplenty, and all in well made hardcore scenes and galleries. Prefer some older guys? Well then, you've got Men Over 30 to explore with studly guys in even more hardcore scenes. Boys Gone Bad is all about hippies and bohemians out to play for some alternative looking guys, and if I need to explain to you what Extra Big Dicks is all about... well, I probably don't.
As for numbers; on a recent count I found over 2,300 galleries and over 2,250 movies to view, so you've got nothing to grumble about with the content count, and updates are happening each week across the network. So if anyone asks you what's a good place for horny and original porn, that's cheap to access and that's constantly being updated, you know to point them in the direction of your 1 Gay Pass.
Bottom Line:
The bottom line here is that you can believe what the tour tells you. You get great value for money, the longer you stay a member the better value you get, you have original content and loads of it, with plenty of variety in your men, your action and even your media players. From hunky studs solo, to youthful twinks duo, to older men in threesomes and to guys with impossibly long cocks, you've got it all right here.
VISIT 1 Gay Pass NOW!
VISIT 1 Gay Pass NOW!