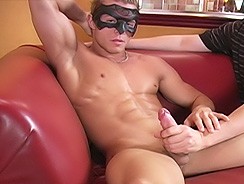 0 total vote





Updated: 2007-09-20
Primary Categories: Hardcore
Maskurbate's Billing & Pricing
Maskurbate's primary billing processor:
Verotel
$19.95 - 30 days - Renews at $19.95 every 30 days
$24.95 - 30 days - One-time-only charge
$49.95 - 90 days - One-time-only charge (best value!)
VISIT Maskurbate NOW!
I saw Maskurbate a few months back and thoroughly enjoyed it. So, when I got the chance to view it again I was interested to see what, if anything, had changed. I knew I was in for something original, not many sites take a niche like this and manage to stick to it and I knew I was in for good quality. What struck me was the first tour page and the guys' I didn't remember them being so hot and hunky before. They still wear those masks though and that'm what the site is all about.

Basically what you have here are over 50 exclusive, original movies that feature hot guys wearing masks. Don't let that put you off if you don't have a thing for face-wear. These aren't those rubber masks with hosepipes attached to other men'm dicks or stuff like that; and they're not camp Venetian carnival masks that you'd wear for a Masque either. They tend to be the same, simple, covering the eyes type masks, that'm all. A simple piece of fetish wear maybe but they do serve to add an originality and an edge to the movies.

You'll find those movies at three per page over the 17 index pages. Each one comes with a title, "Blowing Gage", "Eric's Audition", "Ricky's shower scene" that kind of thing and then you have the main guy'm stats (age, height, weight and cock size.) A short text introduces you to the movie and beneath all that you have your viewing choices. You can stream the movie at 320 x 240 @ 340 kbps - which is middle of the road and perfectly fine; or you can download the larger version - 640 x 480 @ 1500 kbps. Either way you will need Windows Media Player to view the movie but there are no DRM restrictions which means you can keep and enjoy the presentation for as long as you want.

And now this is where the site leaves the main road of gay porn and heads off down a little explored side turning. Beside the video options you have one that reads "View fantasy strip". Click it and you'll get a page of, well a page that's like a comic strip. The guys at Maskurbate take screen shots from the videoing and instead of putting up a standard gallery they go to the trouble to add text boxes to the pics. You start at the top with an introduction and read through, the model sometimes has speech bubbles and sometimes the off screen cameraman is "talking", it all adds to the fun and somehow to the sexiness of the gallery too and it's original.

All the episodes on the site work in the same way. There are many solo scenes and some oral ones where our main hero gets to blow some serious cock. There is not a lot in the way of hard-core fuck sessions as I guess many of these hunks are straight. But you do get several miles of dick for your money, regular updates and sexy guys. The site is simple to use, it'm neatly laid out and there is a comprehensive support page should you need it. Oh and yes, there was more content on the site on my return visit than there had been before so you can trust the updates will come along as promised.

Bottom Line:
This site really is original and hot too. The masks are more than a gimmick; they are there if you have a thing for them but yet they don't get in the way or distract from the hot sex and the hot guys if you don't. The name of the game is exclusivity and originality here - ok so that's two names, but they both apply.
VISIT Maskurbate NOW!
There are 4 comments on this review
Login here to add your own comment:
VISIT Maskurbate NOW!