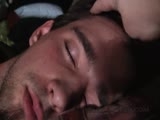 7 total vote





Updated: 2011-04-29
Primary Categories: Amateur
Currently No Galleries
Sleeping Men's Billing & Pricing
Sleeping Men's primary billing processor:
Ccbill
$24.95 for 30 days recurring
$39.95 for 30 days non-recurring
VISIT Sleeping Men NOW!
Every now and then you come across a site with atmosphere; something different from the norm, something unusual. And this site, Sleeping Men, is an example of just such a rare find. From the color scheme to the filming of its exclusive videos, everything works to make the whole experience just what it should be: quiet, secretive, slightly creepy and atmospheric.

Basically what you have here is a site that is all about milking horny straight guys when they are asleep. It is a pretty simple set up, a very simple premise and it is one that works very well. Each week (sometimes more frequently) a new video is put up in your members' area and you get a new voyeuristic treat. It's like you're actually there in the room as you creep silently towards the bed, gently pull down the covers being careful not to wake him, a hand slips in to view and takes out his cock... And all the time there is a quiet hum, very little background noise, and the sound of his sleeping... Like I say, very atmospheric.

And very horny too. I'd say that the majority of the 40 or so videos are along these voyeuristic lines, but there are also some jerk-off videos from some very horny and straight looking guys. But not many, it's mainly about this wonderful fantasy of giving pleasure to a sleeping straight guy, touching and stroking his cock without him knowing, even sucking it, and most of the time these movies are filmed at night using night vision cameras. Which is why you get this great atmosphere. There are some daytime shoots and these work just as well. And there is also a good mix of guys: Lots of athletic types, a marine, surfers, skateboarders, a gym instructor and loads of other youthful horny guys.

Watching the movies is easy. You have a blog style set up to your pages, just like you see on the tour (and there is also a blog to follow) and you will see four scenes per page, plus update news and other information. Click a scene and you find a description of what happened and how the scene came about, there is then a set of images to view and a chance to download the movie or stream it online. The quality is fine, just what you'd expect from videos filmed at night, the sound is just right, even the opening credits are atmospheric and help settle you in for what's to come. Viewing the images is simple too, you just click one of the thumbnails and they enlarge.

What's also good to note about Sleeping Men is the way the members get involved. This is a site that likes you to write in and comment, so you will see what other guys have written and then you can use the boxes that come below each scene to write your own thoughts. You also keep right up to date with the blog, and you're going to find that the style of writing on the site is very straightforward and personal. Your host treats you like a mate, well, he is Australian, and you get a good, decent, honest service - even when the straight guy gets too drunk to perform, or when a shoot doesn't go according to plan. Mind you, that doesn't happen very often and it just goes to prove how real this reality site is.

Bottom Line:
A great atmosphere, realism, hot movies, secret sex and regular updates in a site that's easy to use and good value. It's all exclusive too and the only thing you've got to watch out for is that you're going to get addicted to this content, so be prepared to stay here a long while.
VISIT Sleeping Men NOW!
There are 2 comments on this review
lifeissweet February 02, 2013 - 19:14:39 (See all My Comments)

I've been a member of this site for 5 months or so and I love the concept and the slow motion cumshots are a big turn on! Pretty much every single guy is young and hot. Some are hairy, others smooth and a few muscle guys. One model does the slow teasing and edges the other model. You can comment on the videos and see your comment posted live for the world to see, which I think is cool. I haven't seen any fat homely dudes in any of the videos lol

Reply
Login here to add your own comment:
VISIT Sleeping Men NOW!