Thug Porn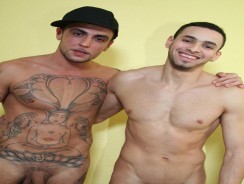 JUB Site Rating:
0 total vote





Thug Porn's Billing & Pricing
Thug Porn's primary billing processor: Paycom
$7.95 2 Day Access, Rebills at $24.95
$29.95 for 30 Days, No Rebill
$74.95 for 6 Months, No Rebill
VISIT Thug Porn NOW!
Who says that the porn membership site is dead? Pitbull Productions, the premier black and Latino gay entertainment company, is on overdrive and Thugporn.com is well worth the look for their urban ghetto hunks on the down low.
"We keep cranking them out," Tiger Tyson, the marquee thugporn.com performer modestly says, "and my peeps keep coming."
Even if you don't join at a mere 30 bucks a pop, there is a lot to do at this site. There are easily five screen shots per clip and at last count there are practically 70 clips mounted for easy access in thugporn.com's patented flash player.
But there is more, a lot more, much more, if you join. There are fifteen full-length Thugporn Platinum and Tiger Tyson videos and four black-balled videos and four biggest dick movies through AEBN updated fresh each month, free with each and every membership.
In case you lost your breath, and we sure have, that makes 1.21 gigabytes of thug porn and Great Scott!, where else can you get 1.21 gigabytes of gay porn, unless you know exactly where lightening will strike next!
It all strikes right here at Thugporn.com: Thug Galleries, Thug Porn, Thug Games, Great Gay Black and Latino Videos - in one easy to find web site. So be kind to your member and become a member at Thugporn.com
VISIT Thug Porn NOW!
VISIT Thug Porn NOW!