Twinky Bottoms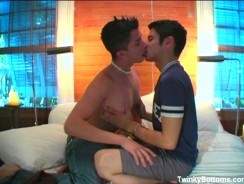 JUB Site Rating:
0 total vote





Twinky Bottoms's Billing & Pricing
Twinky Bottoms's primary billing processor: Ccbill
Twinky Bottoms's optional billing processor(s): Netbilling, Paycom
3 Day Trial - $3.95
5 Day Trial - $6.95
Monthly Membership - $29.97
VISIT Twinky Bottoms NOW!
I just love the name of this site and Twinky Bottoms conjures up all kinds of images for me. Mainly of smooth and hung young guys with their asses up in the air waiting to be filled. And that'm kind of what you get. Lots of angelic looking, pretty young things getting ass banged by other little cuties. Check out the tour and the trailer and you'll see what I mean.
But go further, into the members' area and you're in for a real treat. To start with you get thirty exclusive videos and picture galleries featuring bareback twinks in hard-core oral and anal action. The vids all stream in nice and quickly and are divided into seven, three minute clips. There are solos, duos and trios to be enjoyed and all the guys are cute and sexy. You get scenarios like: three young soldiers out in the forest, three smooth guys barebacking on the sofa, a couple on the kitchen table and some more old fashioned bedroom scenes. All the vids are well made, the sound is real and you can tell that the boys are really into each other which all adds up to make for very erotic entertainment.
If you want to check out the movies before you start downloading you can view the image galleries that accompany each flick. The pictures here go up from thumbnail to full size and have navigation buttons. The boys themselves are hung and come complete with fully loaded balls and edible smooth butts. They really know how to get to work on each other and the undressing scenes are just as horny as the sucking and fucking that comes later. Oh, and when they cum they come bucket loads so bring an umbrella.
As this is a twink site your featured bonus feeds are all twink sites too. You can access six of these including Czech Boys and Twinks Elite where you'll find loads of other twink sex clips and pics and even some stories too. But these are just a few of your twinky extras. Check out the free bonus sites and you'll discover you have unlimited access to a further eleven members' areas at sites that feature, Asians, hunks, uniforms and more. Then you can go to the bonus video archive and browse around the hundred feed sites listed there, accessing them with a click of your mouse. Not all of these extra sites are twink only sites by the way but that'm o.k. the main content at Twinky Bottoms alone should be enough to satisfy your craving for young flesh. Besides, it does us all good from time to time to see some hunks and bears shagging in the woods, or some black guys with monster cocks jizzing up over each other.
You can also download a collection of MPEG clips, view some live feeds sites, get discounts and special offers on shopping and dating sites and drop into the arcade to play some silly, sexy games. Yup, there'm certainly a load to do at Twinky Bottoms and the quality remains good throughout.
Bottom line:
There'm a good collection of exclusive, barebacking twink videos at Twinky Bottoms and some top quality photo sets to go along with them. The guys are young, hung and sexy and their smooth asses deserve the long and hard poundings that they get. As you can also access several twink bonus and feed sites you get value for money when you sign up. Built around the main Twink content is a huge collection of bonuses and extras that will take you off into realms of ecstasy and into sites you'd never normally think of viewing. The whole kit and caboodle is well designed, nicely laid out and easy to navigate so there has been some thought put into member-care too.
VISIT Twinky Bottoms NOW!
VISIT Twinky Bottoms NOW!