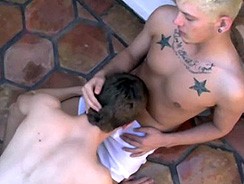 JUB Site Rating:





0 total vote





Updated: 2010-04-20
Primary Categories: Younger
Jizz Addiction's Billing & Pricing
Jizz Addiction's primary billing processor:
Verotel
$14.95 for 3 day trial
$19.95 for 7 day trial
$29.95 for 30 days
$49.95 for 3 months
$99.95 for 6 months
VISIT Jizz Addiction NOW!
It's update time over at Jizz Addiction where the new movies are now 're-encoded' and totally clear and even the older ones are getting a face lift. That's a 'face full of jizz lift' in my opinion as jizz is the name of the game. You've got upwards of 60 movies to relish, over 80 cute young models plus photo sets and flicks in three wet categories.

Looking at those photo sets in more details, as they are first on the handy top menu, I found sets of around 150 big, clear images (600 x 900) displayed in neat thumbnail galleries. You have nine pages of Facial scenes, nine of Cum Eating and two of Self Sucking. These pages include the pics and the videos but if you want to search out only the movies then they are all neatly arranged on the Video page with episode dating back to September 2006. Bear in mind that you're promised weekly updates and it's not hard to work out that there's going to be something worth viewing and collection on a regular basis for the life of your membership.

The movies come at you in whole files, if you want to full scene in one go and these are around the 100 to 150 MB mark in terms of complete file size. But you also have the chance to view clips that are smaller files if, like me, you are impatient to get to the action. The files I viewed as streams were Quick Time so you'll need the right plug-ins to view the decent quality shows, the downloads were .mov files.

So the technicalities shouldn't pose you any problems, nor will getting around the site as the design is nice and straightforward. Each movie and photo set comes with a short written intro and all the necessary things to click to get to the hot action are simply laid out. The streaming and buffering of the movies worked fine, the screens were a decent size and the overall quality of the movies just right. The older - no yet re-encoded - clips were as watchable as the more recent ones and the quality of these was fine too.

As for the guys who appear in the Jizz Addiction episodes, if you like them young and cute, hung and full of cum then you're going to like them here. Average age? I'd say 18 to 25, smooth skinned, big dicked and totally in love with the white stuff. Not only do they get it in the face and over each other but there are some great into the mouth shots, condom play and loads of other interesting things to do with a hot spurt of juice. Each one of the clips can be saved to your own personalised area so you can build your own collection of your favourite messy events and don't forget the sortable (by name and date added) model index where you can search cute face after cute face until you find the boy of your wet dreams. The members' area also carries a link to a video store, customer support and contact details.

Bottom Line:
It's growing by the week with the new updates coming at you regularly and before long Jizz Addiction should hold a great collection of youthful, cum filled videos and galleries. It's one of the more straightforward and simple sites to use with nothing unnecessary getting in the way of your enjoyment. The lads are fresh faced and hot, so no problems there! No problems with the technicalities either with smoothly running short clips (but not too short) and easy to download full length vids and clips.
VISIT Jizz Addiction NOW!
There are 1 comments on this review
Do you like cumshots? Jizz Addiction boasts plenty of them. Upon logging into the Members' Area, you're greeted by a menu bar, a welcome message, picture links to the past six updates on the site, and a category menu. The category menu allows you to access the content through one of four filters: Facials, Cum Eating, Selfsuck, and Video. These four buttons will take you to their respective sections, tailored to suit your particular desires. The surprise feature is the search function in the Members' Area. If you know a model's name, you can type it in and directly access galleries with that model, making it more convenient than sifting through for your favorite among numerical pages.

Many of the galleries are videos, which are divided into multi-part QuickTime clips. There are links provided to download the whole video, as well as the individual clips. The only drawback, I found, was the site's inability to function properly while I was downloading videos. There was really no other way to navigate the site and check out picture galleries while loading a video in another browser tab or window. The cumshots are plentiful in the galleries, and a number of the videos and photo sets lead up to hot facials at the end.

The models are young, about college age. What I do notice about the models is that they're not all super-ripped, buff guys; they have a realness about them that makes it hotter. The number of models isn't that high, but most have repeat performances. Another convenience is the drop down menu in certain photo sets, cross-referencing that particular model's other galleries and negating the need to use the browser's back button.

The website's link to read their official newsletter, Spunk Junkie, is very simplistic, boasting a single picture.

All in all, Jizz Addiction personifies the idea of being young and full of cum. There are updates twice a week, so there's certainly no time to be bored!

Reply
Login here to add your own comment:
VISIT Jizz Addiction NOW!