Bad Cowboys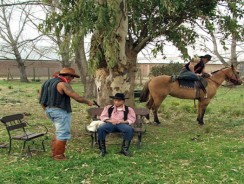 JUB Site Rating:
0 total vote





Updated: 2010-04-19
Primary Categories: Interracial
6 Galleries
Currently No Videos
Bad Cowboys's Billing & Pricing
Bad Cowboys's primary billing processor: Ccbill
Bad Cowboys's optional billing processor(s): Paycom
$29.95 for 30 days
$59.95 for 90 days
VISIT Bad Cowboys NOW!
I'm going to avoid the clichés like 'howdy partner' and so on, I promise, as I guide you around the raunchy ranch which is Bad Cowboys. You'll notice from the very first page that the theme here is cowboys so we don't need to go over the top and I don't want to saddle you with too many daft cowboy related words. So, strap on your chaps, pick up your Stetson and take a firm hold of your trusty steed and come inside to see what's hot in the Wild West.
The members' home page is packed with recent updates and news on what movies have been added to the site in recent days. You get a pic of the day and a vid of the day and you can feed back to the webmasters in a poll, saying what you think about the site. Across the top you can link to the other parts of the site and as usual I headed straight for the movies. These are set out over six pages and each title comes with a screen shot and a write up to give you an idea of what to expect. Click the screenshot and go to the movie's page where you can download or stream the episode.
(Windows Media Player files.)
It's a good job that the movies are divided up into episodes as the full length ones come in large files, over 200 MBs in size which can take some time to download, depending on your connection speed. I did have a little hitch in my giddyup here
(problem)
in that after downloading a movie I clicked play and my media player went haywire, the PC slowed right down and I had to reboot. Once that was done though the movie played fine so I don't know what that was all about but if you have the same problem just try a restart - the movies are worth the hassle.
The cowboy theme is prominent, in fact every story takes place on the ranch either outside or inside and everyone has their cowboy gear on, at least for a while. There is a lot of three way action to be had, two hunks and a younger lad is a running theme and if you like interracial sex then there is plenty of that too. The lucky guys who get to suck, wank and fuck each other are all stunners, to a man, and there are plenty of horse-hung dudes doing the nasty with smooth tight asses. It's great stuff and very well produced too, excellent quality, horny models and easy navigation.
Check out the photo galleries for full screen images which you can run in a slideshow and once again you can give your feedback and rate each image. If you like a horny read then there is a good collection of short stories too. These are not necessarily on the cowboy theme but there's enough well written gay sex tales to keep you occupied for a while. And if all that wasn't enough you also get access to a shed load of bonus sites by using your login details. These include twink, intergenerational and black stud sites and are a real value for money addition to your Bad Cowboys membership.
Bottom line:
Good quality, hot sex, plenty of content and lots of bonus sites all combine to make Bad Cowboys a good site. It keeps to its Wild West theme without going over the top and gives its members plenty of opportunity to feed back and comment on the site. You can keep up to date with the news and updates page and as these updates are regular and many you'll want to hang around the ranch to see what hot cowboy sex action is coming at you next.
VISIT Bad Cowboys NOW!
VISIT Bad Cowboys NOW!