Huge Gay Pass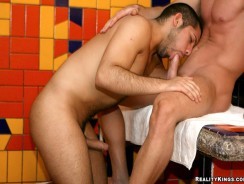 JUB Site Rating:
0 total vote





Huge Gay Pass's Billing & Pricing
Huge Gay Pass's primary billing processor: Paycom
3 Day Trial - $4.95
Monthly - $24.95
VISIT Huge Gay Pass NOW!
Read the small print: "One pass gets you a huge amount of gay reality hardcore porn" and remember that as I will be coming back to it later. The three sites shown to you on the tour page are Papi.com, Tranny Surprise.com and Boys First Time.com. You can see images taken from these sites and some sample video clips.
O.k., where do I start? Your home page gives you 240 picture and movie galleries that are taken from Boys First Time and Papi.com. These feature, mainly, smooth young things in solo and duo action but some of the Papi ones are 'reality' events: Videos taken at club parties where occasionally a Latino guy may get his dick out, for example. I found the Boys First Time clips more erotic to be honest as at least they contain the promised hardcore sex. You can watch these clips on line where they stream into a medium sized viewer or you can right click and download them to your machine when you'll find the file sizes are around the 35MB mark, as an average.
As I say the boys here tend to be younger and smooth, your college lad or boy next door type. The sex is o.k., nothing we haven't seen before and the site is easy to navigate around. You can also save your favourite guy or couple to your personalised 'favourites' area so you can find them again later.
Now then, let's talk about size. Some people say that it is not important while others are out and out size queens. I'm kind of sitting on the fence as I think size is a subjective thing; your idea of huge may not be the same as mine. We were promised a Huge amount of gay reality hardcore porn on the tour but I'm not sure that we get it here. We get 240 videos and 240 image galleries o.k., but if you joined Boys First Time you'd currently get 207 so your Gay Pass gets you an extra 33 from Papi, I assume. And you can flick on over to Tranny Surprise if you're into that kind of thing but I didn't find any Trannies
(I mean how do you know if someone is a transsexual?)
And I thought Tranny meant Transvestite - a cock in a frock - so I was a bit surprised to find, basically, a straight boy on girl site, hardly reality gay hardcore at all. Mind you the straight men were sexy.
And, he bleats on, the rest of your bonus sites are all bloody straight sites too! You get to access 18 porn sites with your Huge Gay Pass of which your featured content comes from two,
(that's 11% of the total)
. I am not counting Tranny Surprise as the surprise for me was that it was a straight site. Maybe I didn't see it all but I certainly saw enough.
Bottom Line:
For almost $25.00 a month I can think of other sites that offer more for your money. I think the use of HUGE is misleading as I don't consider 11% of anything to be huge. If the tour was more honest and said you can access the content from Boys First Time, some rather tame stuff from Papi.com and more straight sites than you care to imagine then at least that would not have mislead me. I'm sorry if I missed the point of Huge Gay Pass but that is how the site left me feeling. Take a look for yourself and see what you think, I mean if you like gay and straight porn then you'll have a field day that's for sure. But when I'm promised something huge I expect huge and in this case I think I'll pass.
VISIT Huge Gay Pass NOW!
VISIT Huge Gay Pass NOW!