Horny Boy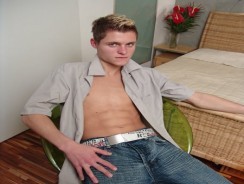 JUB Site Rating:
0 total vote





Horny Boy's Billing & Pricing
Horny Boy's primary billing processor: Ccbill
$29.95 for 30 days then $24.95 recurring every 30 days
$34.95 for 30 days (non-recurring)
$59.95 for 90 days (non-recurring)
VISIT Horny Boy NOW!
Ah, go suck yourself! As someone once said, incorrectly, to me after I pissed him off. I think I replied, if only I could I wouldn't need you, cock-sucker! He, he. Well the good news is that the boys on
Horny Boys
can do just that and the even better news is that you can watch them do it. Whether you call it autofellatio, self sucking or simply a gift it doesn't matter, the fact remains that it'm a really horny thing to watch.
Set against the bright blue background in the members' area you will find all the links and information you're going to need to fully enjoy this site. There are over 100 original and exclusive videos featuring self sucking twinks and hunks, bareback sex, oral and anal scenes and even a bisexual adventure aptly titled bi-accident. Each video comes with its upload date (so you can keep an eye on the regularity of the updates), a short write up and a thumbnail to get you to the download options. You get two choices of file size and are even told the size in megabytes so you can figure out how long each one will take to come down the line. The clips I saw ran for five minutes and even the lower quality ones were watchable; nicely filmed with good sound and boner making action.
The image galleries were nicely set out by theme; self sucking, pervert boys
(that poor melon!)
, twinks, hardcore, video captures and toons. There are around 100 galleries in the self-suck department alone with hunks, twinks and teens bending over forwards to get a mouthful of their own meat and gravy. Navigation is easy enough and you can also opt to view the well taken images in a large or medium size. In the pervert collection you'll find all kinds of fetish themes, from socks to fruit and from trainers to outdoor jerk offs and there are some lovely fresh faced boys in the twinks galleries.
But apart from the videos and images, which most sites have let'm face it,
Horny Boy
goes a couple of steps further. The toons are original and exclusive with drawn autofellatio adventures featuring solo cartoons and groups in comic strips. There are over thirty stories in the library that have self sucking as a constant theme and, just to prove that the makers of this site take their niche seriously, there is also a reviews page. Here they write up their reviews of self-sucking movies that are available on the market giving you not only their thoughts but shots from the movie and a link over to where you can buy it. There is also a forum that you can post message as at so, when you join the site, you are in fact joining a kind of specialist club. All this extra content is great to see and it makes a refreshing change from the same old same old that so many other sites put up. I mean if you're going to have a niche site then you should specialise in it and offer other interested folk more than just a few tired old images and fuzzy videos.
Bottom Line:
Finally I've found a site that delivers on its promises, knows its niche, produces its own content and then goes even further to bring its members value for money. Apart from the well made and horny videos, picture galleries and toons the site also gives you a forum and stories, looks at other sites and movies that feature self sucking and really knows what it'm talking about. Around all this excellent content are extras like a monthly editorial and movie feeds. Excellent on all counts.
VISIT Horny Boy NOW!
VISIT Horny Boy NOW!