Jet Set Men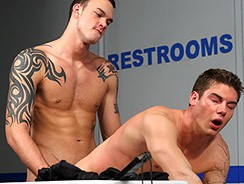 JUB Site Rating:
0 total vote





Jet Set Men's Billing & Pricing
Jet Set Men's primary billing processor: Unknown
$19.95 Per Month - Renewing at 19.95
$34.95 Per Month - Non-renewing
VISIT Jet Set Men NOW!
A quick look at the tour of Jet Set Men will give you a good idea of the quality as well as what the site is about. But when you join the members' area you really get treated to the full works with model galleries, 10 new clips a day, previews of the latest Jet Set releases, 15% discount at the store and all for $19.95 a month.
Actually that makes me stop and think. You are signing up for a site that may be exclusive and may produce some of the hottest flicks around but you have to then go and buy them to view them all. O.k. so there are some 'free' clips every day (that actually cost 0.06 cents each if we're going to be pedantic,) and you do get a discount and other goodies so I will leave it up to you to decide if you think that's worth it. I was sceptical at first but then I started to look at he members' area in more detail.
To start with the featured model gallery gives you a great set of good sized images (660 x 1000) to view and collect and this is a great way to get to see the stars close up. You can also view the featured hard-core gallery with similarly good quality images but this time bringing you some of the very personal and up close shots from the recent videos. Needles to say the guys here are hotter than hell, hung and sexy. If you want to see them in action then you can check out the weekly scenes and this is really where your membership fee comes in to play and where you start to get value for money.
Each of the scenes played in an on-line Real Player screen, streaming in fairly quickly, with sound and the quality was fine. The scenes that I checked out ran for around 30 minutes so you have plenty to view each week. There were names in there that I recognised too, Like Brett Mycels and other sexy young porn-gods so I really can't complain about the 'free' weekly scenes - though of course they are not free. Checking the top menu you'll find another gallery area and this contained loads of photo sets including the model index and shots of every exclusive Jet Set Man.
Apart from the content though you also get to tune in to what the studio is up to and what new releases are coming next, it is a bit like joining a fan club where only members are privy to certain information. There is a newsletter you can subscribe to, you can apply to become a Jet Set model if you've got what it takes, (which are: good looks, big, dick, tight ass... you know the kind of porn star things,) and there is background information on the company too. You can link over the pay per view theatre if you don't want to buy a DVD outright (I'm not sure if you get a discount though, it doesn't look like you get any free time just because you are a member) and then there is a thing on the index page called 'Wet Palms' - coming soon: "America's first gay-time drama". I can't wait!
Bottom Line:
Once you work out what you get for your membership fee you find you actually get a certain amount of value for money with ten exclusive scenes every week, plus clips and galleries and discounts at the store. If you are a Jet Set fan then you simply must join the site, if you're not then take a look anyway as you soon will be.
VISIT Jet Set Men NOW!
VISIT Jet Set Men NOW!