Gay Boys Feet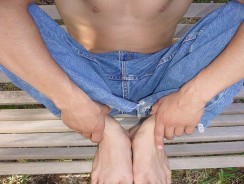 JUB Site Rating:
0 total vote





Gay Boys Feet's Billing & Pricing
Gay Boys Feet's primary billing processor: Ccbill
Gay Boys Feet's optional billing processor(s): Paycom
$6.96 - 7 day trial
$9.96 - 11 day trial
$14.96 - 20 day trial
$29.96 - 30 day
VISIT Gay Boys Feet NOW!
Mmmm,
feet
. It may be a specialized interest, but there are a lot of guys who get really turned on by other
guys' feet
. And if that'm what you dig, you probably already know how frustrating it is to go through a whole website looking just for those sites with hot guy'm feet. That'm why
GayBoysFeet.com
is pretty cool because you get a great gallery of some of the cuties young guys, taking off their shoes and socks and showing off those sexy hooves of theirs.
Now, normally I would not get so jazzed about a site with just a single gallery of pics, but with your membership you not only get your
foot fetish fix
in, you also get access to several other pic and video sites. Looking through the video section I can tell that they've got something for just about everybody. Military Recruits, for fans of hot army guys to the most staunch military fetishist. Meat Police
(who wins in my book just for the name)
. Plenty of Twink sites in this network such as the aptly named Twinks, Twinks for Cash, and Twinks Elite. Oh, but don't get turned away of slim young guys aren't your thing, there'm Bear Meat for the lovers of body hair, Mature Guys Elite for those looking for a Daddy, Fetish Factory for those looking for a leather Daddy, and site geared for Black, Latino and Asian videos. And if you want to really explore other avenues there are a few Bisexual sites as well as one all female Straight site, just for the, um, Straight curious?
The photo section has another selection of various photo sites, and another site full of
young guys' feet
. And any of the sites that catch your fancy can be easily added to your favorites folder by clicking on a button next to the site'm title and description. That favorites section comes in handy if you come back to the site on a regular basis. On sites like these people sometimes explore various sites but then quit coming back because they can't find the sites they like best, but
GayBoysFeet.com
has taken care of that. All your favorite sites can be seen with just a few clicks.
So, there'm the photo section, the video section, plus a bunch of cool live cam sites and some interesting things going on under the "more" section. I'd say there'm enough to keep you busy for a while. Remember to use lube.
Bottom Line:
The nice gallery of foot oriented photosets will be great for the die hard fetishist, but the network of cool sites will be make this one to come back for.
VISIT Gay Boys Feet NOW!
VISIT Gay Boys Feet NOW!