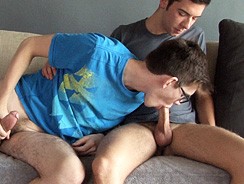 JUB Site Rating:





3 total vote





Updated: 2010-04-24
Primary Categories: Amateur
You Love Jack's Billing & Pricing
You Love Jack's primary billing processor:
Paycom
$19.95 for 30 days
VISIT You Love Jack NOW!
You love Jack... we all love Jack, that is, we all love to jack and that's what you're meeting here - not a person but a play on words. This site, apart from being totally load-blowing, is also cute and sexy. It's well set up, what you see on the tour is what you get, but members get more of it, and it comes with so many extras and links into other top sites that you really don't believe it's only going to cost you $19.95 a month. But that's the truth.

Ok, so I was impressed. Why?

Well, to start with the site has been updating frantically, or at least regularly, since my last visit and now it holds 118 of its own scenes. And these scenes are stuffed full of cute and sexy young bois who go at it solo, and in pairs. There are some very nice couplings too, believe me, including pars of real boyfriends. And, when you get a 'real boyfriends' scene you know that there is going to be nothing fake about it.

It also gives away its content, which is good for us. You can stream or download all of the movies, and keep them, and you've got neat images too. There are no quality worries here, the sizes chosen for your movies and pics are decent ones, the filming is natural and handheld, you get to see all of the guys doing all of what they are doing, and the sound is also clear, which means you can listen to the interviews and chat when you get them and you can certainly hear the sexy grunts and groans, and the cum shot moments are really brought to life.

Technically speaking you will need Flash player 9 or higher, but there are links if you don't have it, and you can expect to downloaded m4v files at a decent transfer rate. Streams happen in the same window, so once you've started one you stay with it until it's finished, and some of the older movies (the site goes back to 2006) may have smaller resolutions than the more recent ones. Images are either big digital ones or you find screen caps, sometimes both.

Now let's just go back to your home page for a moment. I should have told you that you get more than the main content with your membership. You can also access several other really hot sites. Like You Love Jack they are mainly twink and white-boy themed, but they hold more variety, more movies and pics and loads more sexy bois. You've got a list on the right side of your page to take you to places like Squirtz, Video Boys and Dick Show and there are other links to magazines, PPV and cam sites. It's a nice collection of alternative porn options, and with three of those sites containing a large stock of hot movies and pics, not to mention the youthful boys, you've also got great value for money.

I do like to get involved with my porn sites, by rating content, leaving comments and even, when available, emailing the models; but you can't do any of that here. There is help and support if needed and you can contact the webmasters, but I can't help feeling that a forum or similar would really add to the good and sexy atmosphere of the site. But not having these things certainly does not put me off You Love Jack at all.

Bottom Line:
This is a great place for dreamy twinks and teens, loads of solos and some hardcore, all original, all good quality and it also comes with access to other top twinks sex sites for more solos and action. It is well stocked, very well designed and presented, and is fantastic value for money.
VISIT You Love Jack NOW!
There are 3 comments on this review
biglifter February 26, 2012 - 21:44:31 (See all My Comments)

I joined this site a few years ago and the guys were seriously hot and videos were good quality. Hoever, there wasn't much content back then, so I downloaded all the best vids and cancelled my membership.



Just having a look at the site again now and it looks like they have loads of updates over the last couple of years, so I intend to rejoin.



One thing though; is it just me or do ALL the guys have absolutely massive cocks? Only one or two of them fall into the average category, with the rest being anywhere from above average to seriously hung. Could easily get a complex watching these young guys with perfect bodies and massive packages.



Reply
perigrine February 12, 2009 - 06:34:29 (See all My Comments)

This is some great amateur gay porn; mostly solos but often with dildos and ass play. The early vids are the best with hot sexy young guys getting off together and filming it at the same time. The problem is that there only seems to be a new video once or twice a month. There are alot of freebie links to other porn sites, but none of them offer downloads. This is also another site that offers iPod friendly downloads. I wish that they would jack the price up $10 and give us at least four new vids a month.

Reply
dudexxx2008 August 10, 2008 - 17:17:24 (See all My Comments)

I sure didn't realize that there were so many guys with huge beautiful cocks. I really like Tom Moore but I don't see any mention of his size. But there are so many larger cocks here that this site gets you horny. I always wanted a suck buddy that was 10-12 inches long and wide. You sure see plenty here, and there's great scenes of guys sucking these hard cocks. It's easy to get into a dick sucking frenzy when you see what's on here. Great work!!!!

Reply
Login here to add your own comment:
VISIT You Love Jack NOW!