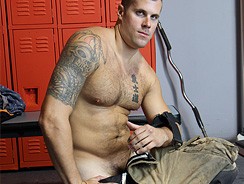 JUB Site Rating:





1 total vote





Updated: 2010-04-22
Primary Categories: Bears
The Guy Site's Billing & Pricing
The Guy Site's primary billing processor:
Ccbill
$24.95 for 30 days recurring
$29.95 for 30 days non-recurring
$54.95 for 60 days non-recurring
$69.95 for 90 days non-recurring
VISIT The Guy Site NOW!
We like a site with a simple name, a simple approach and downright horny content, and we also like bears and muscled men. That's why we like The Guy Site. Ok, so you don't get a lot of help, on the tour, there isn't much that I could find to tell me when new content is added, for example, but pictures speak thousands of words and the images you do see on the tour are exactly what you find in the members' area.

The site actively seeks models, and anyone in the US over 18 can apply - but you're going to need to be fit, preferably toned, uninhibited and if you've never shaved your body hair in your life, so much the better. But they also say they are not simply a bear site, there are bears here - boy are there bears here! As long as a guy is good looking, and fit, it doesn't matter if he's tall, short, fat, thin, young or old, he has a chance of appearing here - and your dick size isn't a factor either. So expect lots of varied amateur guys when you call in.

The members' area runs like he tour pages. You've got 25 big pics per page, and each one leads to a set of clips and pics. It's as simple as that. I counted 181 'scenes' you could call them, and these too were varied. There are solos here, I found a very cute 19 year old boy in a solo on the bed session, then I found two guys in their 20s together - jerking off together but not touching as straight men also appear here. I also found a couple of guys with some grey creeping into their beards, not all guys are bearded, but I didn't find a lot of hardcore. I think it's fair to say that most of the content here is solo work, with some couples working things out together, but side by side, and I did have to hunt around to find any 'action' scenes - and came across some BJs, and a couple of anal clips.

What you do is this: you browse the main pages, which act as a kind of model index as you see exactly who is in each scene. Then you click to get to a page that contains a written introduction, the sets of video clips and all the thumbnails for the accompanying photos. Images click up to good sizes, in new windows, come with basic navigation and are very good quality. Movies too open in a new window as a WMV stream. I found some large screens here, up to 1324 x 744 in size, the bit rates hovered around the 1.5 to 1.7Mb range and the quality was great. You can download the file once you've opened this new screen if you want to.

The guys are amateur and natural, they take on their roles as jerker or sometimes sucker, wank buddy or top/bottom, with ease and. after the action, you've usually got a nice shower scene to clean up with. You could say that there are things missing here: I mean, there are no categories or searches, no way to sort the content, only one choice of player for movies, no update news and you can't get involved. But The Guy Site is all about bringing you genuine and great looking amateur guys in exclusive movies and galleries, with variety and ease of navigation and use, and on those fronts it scores well.

Bottom Line:
A simple site that simply brings you hot and talented, great looking and horny men from all walks of life, naked, solo, together and varied. Don't expect all bells and whistles, but do expect a lot of neat porn shoots.
VISIT The Guy Site NOW!
There are 0 comments on this review
Login here to add your own comment:
VISIT The Guy Site NOW!