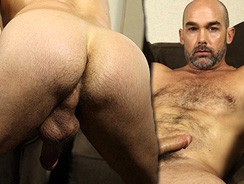 0 total vote





Updated: 2011-04-15
Hot Older Male's Billing & Pricing
Hot Older Male's primary billing processor:
Ccbill
$19.95 30 days - Renews at $19.95 every 30 days
$21.95 30 days - One time charge
$49.95 90 days - Renews every 90 days
$89.95 180 days - Renews every 90 days afterwards at $39.95 per quarter
VISIT Hot Older Male NOW!
So, I took a look around at the tour and wondered how long had Hot Older Male been running? It must be a fair old time to have 246 exclusive movies and 255 galleries, 297 models, a store, a blog, an on demand site and a bonus site. Checking the earliest movie I found it was put up in 2004, which means not only are the models here old and experienced, but the site pretty much knows what it is doing too.

I wasn't surprised to find that this is due to Pantheon Productions, known for their top quality older guy and bear porn. And this means you can feel safe and protected, looked after and in safe hands when you take one of the variety of generous sign up offers. You will get a lot of older guy porn for your money, great quality movies, regular updates and some nice extras.

And yes, we are talking older men here - though some younger guys appear too. It's certainly not a twink site, nor even a jock site, it is 100% men over... forty? Hard to say, but I'd say the main stars were in their 50's and above, with a smattering of hairy younger guys, and the occasional much younger guy (late 20's?) is brought in to get in on the daddy and younger action. You can sort through the model index and check out each of the many men, if you've got the time, and make up your own mind about age. Actually you're going to need a lot of time to see everything here so go for a longer membership and be prepared to stay a while. By the time you've seen everything currently available at Hot Older Male you will have to go back to the beginning and catch up on what's been added since you joined.

Which is another way of saying that updates are happening. The studio is going from strength to strength and there's little danger of this site going off line anytime soon. So, you're able to sign in and start your adventure with no worries. But what will you find?

Well, there are up to three ways to view each movie with Flash streams, and WMV and Mac compatible Quicktime downloads. You've got galleries that come with choices of picture size and which are easy to navigate, and you have access to Pantheon Bear for an extra. The movies are all spot on and worth seeing; they are well made, great quality and feature some of the hottest dads I've seen in a long while. You may even recognize names. The sex is varied too so you have some older solos, some bear on bear action, dad on dad grunting and grinding, and even some older guys with younger hunks too.

Members are able to easily sort the content, filter in down, the navigation style and design are great so the site looks good and works well, and there are some basic interactive options for you, like rates, comments and a favorites area. Click into the Pantheon store for you 50% discounts (they are practically giving the porn away here), and check into the blog for details and news. Really, apart from the heady older guy porn which is excellent, you've got all kinds of other things to see and do in this perfect dad site.

Bottom Line:
Sing its praises everywhere and spread the word that this Pantheon production, Hot Older Male, is shooting to and at the top of the top lists for dad porn, older man sex and all things hot, well made and erotic to do with the over... well, older men.
VISIT Hot Older Male NOW!
There are 3 comments on this review
Old mature men, as I do. These men know how to pleasure their partners, no holds bar! The sex is hot

Reply
Login here to add your own comment:
VISIT Hot Older Male NOW!