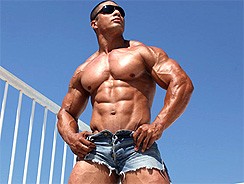 JUB Site Rating:





0 total vote





Updated: 2006-12-05
Secondary Categories: Gay Hunks
Muscle Hunks's Billing & Pricing
Muscle Hunks's primary billing processor:
Ccbill
$29.95 / 30 days recurring;
$99.95 / 120 days non-recurring
VISIT Muscle Hunks NOW!
Oh my God! Finally someone has created a real muscle site. MuscleHunks is packed with serious muscle guys. These guys aren't just casual workout guys. The men on Muscle Hunks are massive, beefcake men who spend a lot of time working on their bodies. And thankfully, they're willing to show them off.

The first thing that struck me about Muscle Hunks was that it was so beautifully designed, just like the hot bodies of the men. I felt as if I had died and gone to beefcake heaven. Muscle Hunks has taken a lot of care and thought to create a beautiful site that showcases sizzling, muscle men. The colors are pleasing browns and gold and the site navigation is easy. There'm no screaming come-on, Muscle Hunks lets the men and their gorgeous bodies speak for themselves.

Muscle Hunks really is more about muscle than anything else. There are no raging hard-ons in the preview area, and in fact, I wondered for a minute if this was even a porn site. Seriously, I don't think it really is just a porn site. It'm a muscle worship site. Certainly you're going to see lots of cock inside, complete with hardcore jack off movies, but Muscle Hunks is so much more. You're also going to see video clips of these beautiful, muscle men walking down the street, dancing, working out at the gym, flexing their muscles, and sunning themselves on the beach on the beach.

Muscle Hunks is not a "get in and blow your load in 13 minutes" kind of site. The site is a careful study of the muscled male body and they want you to savour every inch of it. The tease is half the fun, isn't it? You're going to start with a guy that really turns your crank and you're going to watch everything he has available before you move onto the next guy.

The second thing that I found interesting about the site is that they aren't concerned about promoting the sexuality of these beefcake guys. They don't, at any time that I could see, talk about whether these guys are straight or gay. This is a muscle hunk site for anyone straight, gay, bisexual, male, female, or transgendered who loves looking at and admiring beefcake.

At the time of this review, Muscle Hunks had 76 galleries featuring a wide range of muscle men white, black, Latino, and Asian. The only criteria are that the guys take impeccable care of their bodies. Each model is featured in a series of video clips available in QuickTime and Windows Media Video (high and low resolution). Only some of the models have still picture galleries. But, the amazing offering on Muscle Hunks is that you can purchase a DVD packed with video of your favourite hunk. If you choose to simply watch the video clips included with your membership (and there are a lot available for each muscle guy) they stream super-fast.

Okay, I've written enough. I've got to get back to Muscle Hunks, I have to do some more studying of that bicep pump. Yeah, that'm it. I need more workout tips. I don't quite have it right yet.

Bottom Line:
As someone who has just started working out, it'm inspiring to see what the male body can do. These beefcake men are hot to watch whether they're posing on the beach or jacking off in their bedrooms.
VISIT Muscle Hunks NOW!
There are 1 comments on this review
First, let me say that there are great photos and video clips of good-looking, mostly Latin and East European men at MaleHunks. The clips are supposed to be downloadable in BOTH QuickTime and WindowsMedia--however, only QuickTime works. I e-mailed MH's Customer Service several times, to ask for assistance in downloading with WindowsMedia (which I prefer)and they never had the courtesy to respond. They advertise service 24/7: this is not true--MH is right there to grab your 29.95 every month, but not there when you need them. Really very disappointing.

Reply
Login here to add your own comment:
VISIT Muscle Hunks NOW!