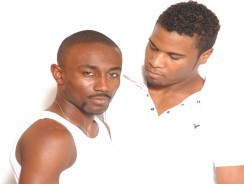 JUB Site Rating:





0 total vote





Updated: 2010-04-19
Primary Categories: Black Men
Secondary Categories: Hardcore
Currently No Videos
Gay Ebony Xxx's Billing & Pricing
Gay Ebony Xxx's primary billing processor:
Paycom
$4.95 for 3 days then $39.95 recurring every 30 days
$9.95 for 7 days then $39.95 recurring every 30 days
$39.95 monthly recurring every 30 days
Three Month Membership is : $69.95 (non-recurring)
VISIT Gay Ebony Xxx NOW!
I love all kinds of guys. I'm an equal opportunity pig, I fully admit it. And I love sites where you can get a little taste of everything, but when I'v in the mood for a specific brand of hunk, I make it a point to learn where I can go. Gay Ebony XXX is one of my favorite stops when I want some big black dick. The guys there are so hot, and there are a lot of options to choose from. I can see full photo galleries of all the sexy ebony studs as well as full videos. And there are so many different types to choose from.

My current favorites are Tyboi and Vaughn. These guys look so good together. Their skin tones are just slightly different making for a beautiful contrast to each other and both have dicks to die for. And I love the fact that the pics and the videos are both in the same place, so if I get all hot and horny from looking at the pics, I don't have to run all over frantically looking for the videos, they're right there.

The videos are all really good quality, and you can choose if you want Windows Media or Quicktime in a variety of speeds and sizes. I really like that because I know what my system will take and when you can't handle the huge sized videos, the medium ones will play better and therefore you can enjoy your movies better.

One thing that really ads to the value of the site is that in addition to the amazing collection of sexy ebony guys, you also get access to a whole network of other sites, like Circle Jerk'm hot videos, Sergeant Suckoff'm military masters, the naughty voyeurism of Twinks For Cash and many more.

Bottom Line:
For all you get with a membership to GayEbonyXXX.com, the price is well worth it. You may try the 3 day sample but your best bet is the three month membership. It'm cheaper and with all this content you can come back again and again and never see the same content twice. And as hard as it is to find good ebony sites, you can't beat the hot guys on GayEbonyXXX.
VISIT Gay Ebony Xxx NOW!
There are 0 comments on this review
Login here to add your own comment:
VISIT Gay Ebony Xxx NOW!