Boykakke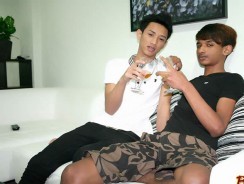 JUB Site Rating:
0 total vote





Boykakke's Billing & Pricing
Boykakke's primary billing processor: Paycom
$1.00 for one day recurring
$6.95 for three day trial recurring
$29.95 for 30 days recurring
$69.95 for 90 days recurring
$139.95 for 180 days non-recurring
VISIT Boykakke NOW!
What exactly is Boykakke? Well, you could try pronouncing it 'boy cake' and you'd be heading in the right direction. Think 'boys caked' and you're getting closer. Try 'Asian boys cumming on each others' faces to the extent that they nearly drown' and you'd be almost hitting the nail on the head. Boykakke is the horny, ancient Oriental art of several youthful twinks jerking off one a piece onto the face and body of a smooth and cute bottom boy. This is preceded by some horny sex, groups usually, and circle jerks, and luckily for us it's also filmed by this professional network and then made available as exclusive movies and galleries in a well designed members' area.
So, that's where we start, in the members' area and at the home page. You have a simple menu here which leads you to the videos, galleries, feed sites, bonuses and some ideas for chat and cam sites to try. The home page also lists the recent updates and something new is added to this network just about every day. Did I mention the network? What you sign up for here isn't just one Asian site with its own vids and pics, you actually sign up for five Asian themed sites and two others with amateur white boys and ebony guys. So you're getting good value.
But as for the Boykakke experience: There are over 100 movies in the collection so far and each one guarantees you a facial of some kind. Sometimes it's with a couple, most of the time it's with a group of Asian twinks. And Twinks are another theme here; the models at this site are all in the twink age range, all smooth and hung like a youthful Asian boy should be, they're all cute and well put together too. You can see them in action in these videos where you're able to stream in Flash or download in a couple of high quality formats, one of which will sit nicely on your iPod or other hand held device. You get full scenes in one go and I didn't see any clips, and there are also video caps to show you how the action will unfold. As a member you're asked to rate and comment on the scene, though it's not compulsory of course.
And you get those same interactive options in the galleries where there were over 160 photo sets, each with its own amount of individual images. Grab a zip file download of the whole set, browse them one at a time or run a slideshow and you will be treated to high quality digital images that take you through some kind of horny scene or other until you reach the climax, where there will be plenty of jizz and where you will need to hose yourself and your monitor down afterwards. Yes, these are horny galleries that contain action as well as portraits and posed shots.
That's an outline of just part of your members' area; after these treats you've still got those bonus sites, an Asian themed feed and several other general gay porn feeds to look at too.
Bottom Line:
Boykakke is part of a top Asian network and one that is not only well made, exclusive and well designed, but one that is a real steal to sign up for. You've got frequent updates to your sites, lots of info and interactive options and good quality content. But most of all you have hundreds of super smooth and sexy Asian twinks and, in this particular site, a great cum fetish theme too.
VISIT Boykakke NOW!
VISIT Boykakke NOW!