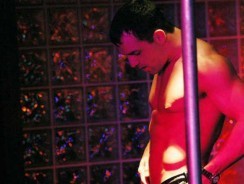 0 total vote





Updated: 2007-08-08
Primary Categories: Fetish
Currently No Galleries
Nude Male Dancers's Billing & Pricing
Nude Male Dancers's primary billing processor:
Verotel
$14.95 One week trial (recurring)
$29.95 One month (recurring)
$35.99 One month (non-recurring)

Pay by phone
$29.95 One month
VISIT Nude Male Dancers NOW!
So it's late at night and you want to go out but you can't because you've got no money. What do you do? You're desperate for some company and some action, some atmosphere and a couple of sexy shows. Simply go to Nude Male Dancers and log in and you're in a virtual club world where you will find everything you wanted while staying in the comfort of your own home. Ok, maybe there isn't a sexy barman giving you the eye as he serves your cocktail but that's not a problem, everything else is here and it's here when you want it.

Coming at you live from Montreal, Canada...

You see the main point of this site is to put you in the club where you can watch a sexy strip show without having to leave home. There are some extra things to enjoy here too but let's start by looking at the most important thing, the club. When I walked in there was a soundtrack playing (the Flintstones!) from the embedded media player. Video footage of last night's show was streaming in nice and quickly for me with no efferent needed on my part whatsoever. Some of the dancing guys were getting ready backstage (working up their impressive cocks) while the DJ introduced them. Then there they were on stage dancing and stripping before the live audience. Above the player was a countdown to the next live show so if you're online at the right time you can actually be in the club live, at the same time as the show is actually happening. Cool.

If you've missed a show or two, or when you've seen last night's one, you can click over to the DJ's Choice page where you'll find others. These 45 shows feature a variety of guys; white, black, smooth, hung, you name it these are the cream of the crop when it comes to strippers. There are solos and duo shows, parties, drag acts and pride march footage and each one of these exclusive movie events will stream on line or download with no problem at all. They are sexy, erotic and fun and each guy gives his best for you as he goes through his paces.

And then the site goes a little bit further - as if streaming you regular live strip and sex shows wasn't enough. There's a bonus area featuring photos and videos from some of the shows - some great body and cock shots, some fantastic hunks and great entertainment. There is a chat area you can join in with at certain times and for a certain amount of extra payment. There is a message board/forum so you can comment on the site and give your feedback and there are links to DVD shops and other favoured sites for you to explore. Check out the Tiger News page for cute and cuddly (glove puppet) Tiger's updates. These date back to 2006 though there was nothing after December 2007 for some reason. Three of the cute dancers also have their own pages with movies and images and you can easily click through these too. In fact navigation generally is simple and each time you return to the home page you'll find a different part of yesterday's show streaming in.

Bottom Line
It's TV time. Actually Nude Male Dancers is just like the TV station it sets out to be with live coverage, recorded shows, news and other information - all you have to do is switch channels by clicking the various links to the different parts of the site, and select what show you want to watch. It sticks firmly with the club angle, it takes what it does seriously and it has a reality atmosphere to it that's second to none. You'll never be home alone again with this original and exclusive site.
VISIT Nude Male Dancers NOW!
There are 0 comments on this review
Login here to add your own comment:
VISIT Nude Male Dancers NOW!