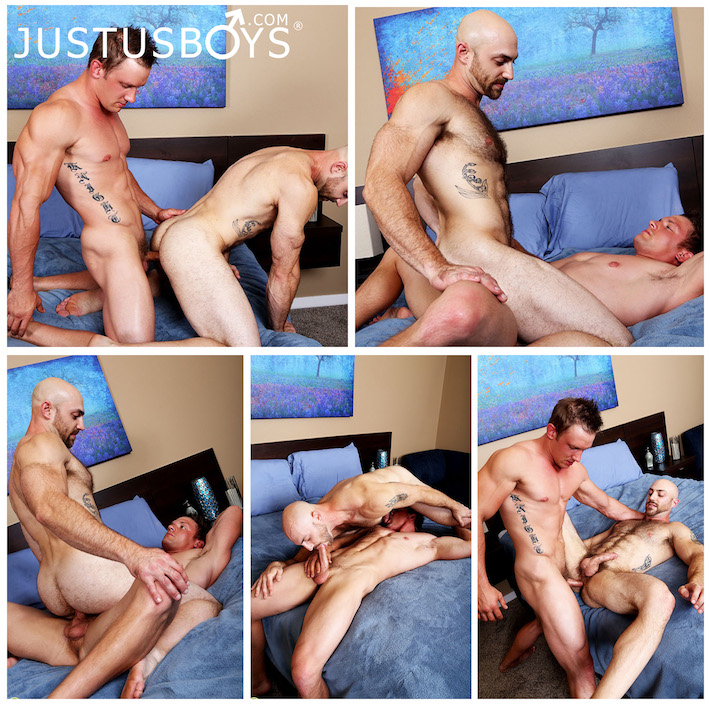 I had been wanting to get Tatum back in. Fans of hairy guys have been asking for him back, and he read on some message boards that he should grow a beard, so he showed up even furrier than before.
Tatum also had been training for a body building competition, while Gavin has been hitting the gym extra hard, so I figured I would put two muscular dudes, one hairy, the other smooth, in a scene together.
Both guys had not had sex in a long time. Gavin had been visiting with family, and Tatum has been out in the country. Both guys stopped the video a couple times because they were about to nut. Rarely do I have the problem when both guys are struggling to NOT cum.
Tatum has turned out to be an amazing bottom. He truly really likes to get fucked. Either riding,  doggy-style, or on his back, Tatum's cock is loves having Gavin fuck his hole. A couple times he had to stop from being fucked or risk nutting.
This scene was literally a race to see if we could get enough footage  before either accidentally ejaculated.
So I thought that I would try to get Gavin to fuck till he cums, a nice internal cumshot, and maybe if we were lucky, Tatum would nut at the same time.  It is usually very hard to get this, so it is a bit like the unicorn of porn mythology. I have seen it in a couple videos of course, and occasionally get it myself, but this one is right on the money!
I tried to edit the cum shot perfectly for you all to get the full-effect. The internal breeding, then Tatum nutting and his load raining down on Gavin's cock just as he drains the rest of his cock into him. Click for more Gavin Sevin & Tatum