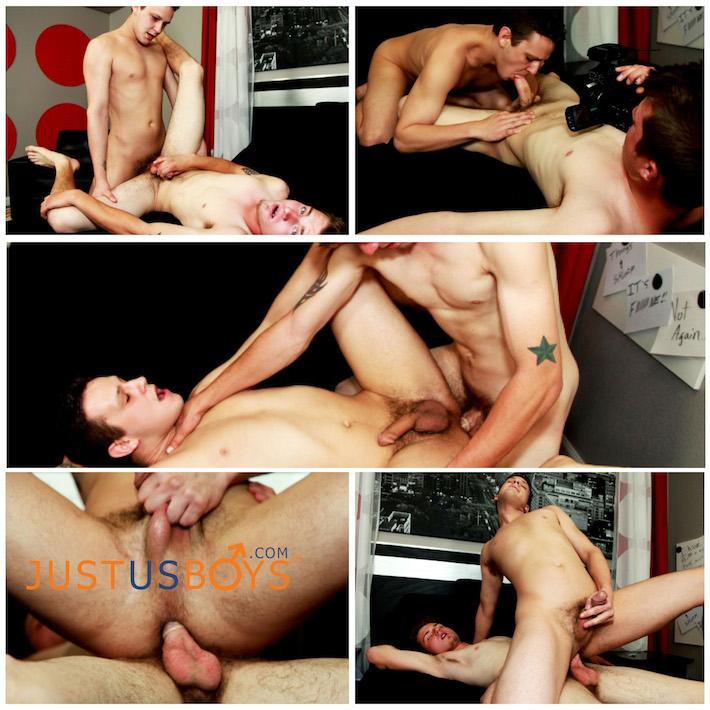 "Another day in paradise." Jason Matthews utters this phrase when the camera starts to roll for this recent update. As he stands next to Tate Thompson, Jason chronicles the shenanigans surrounding the birthday celebrations of one of Damien's friends. "Me being the new guy, I got hazed and left out on my own," Tate adds.
Apparently Tate became part of a drag queen show. She rubbed her hands all over Tate, which shows her good taste. Too bad there were no photos. "It was one of the best times I've gone out with the crew," Jason says. The cameraman finally gets to what everyone is waiting for. "Take off your clothes," he says. "Just get naked."
That's why you're here, right? LOL! Tate shows off his BSB underwear. He's asked if he can twerk. Alas he can't, but admits to having lap dance skills. Jason gives Tate's butt cheeks a few good slaps. "You left your mark," the cameraman says about Jason's hand prints. Underwear is lost and Jason jiggles that phat boot-ay. Shake it, baby. Shake it!! Tate will suck first. Being a veteran has its privileges. LOL! He opens wide and takes everything in. "He doesn't play around when giving blow jobs," the cameraman observes. "No, he doesn't," Jason says, with appreciation in his voice. Those soft lips work their magic. Soon Jason's tool is at attention. And Tate looks so hot with his blue eyes looking up, that mouth filled with meat. Jason needs to return the favor. He pushes Tate on the bed and gets to town. The rod is stiff and fits perfectly down Jason's throat. He holds his tongue out and slaps the pole on it. His spit makes it juicy and wet.  "He doesn't play around with his blow jobs either," Tate observes.
"Well, if you're going to do something might as well do it right," Jason says. He shows off his deep throating skills, which are rather impressive.  "I have an ex-girlfriend you can teach a few things to," Tate notes. Fucking time has arrived. Jason puts a condom on Tate's tool. Lube is placed where it will do the most good. Jason gets on his stomach, that juicy backside pointed toward the ceiling. He gives Tate some assistance, and the moment his hole is filled Jason moans into the sheets. The sob is muffled, but we all heard it before from happy bottom boys. Tate begins to long stroke Jason. Those cheeks jiggle from the pounding.  "Easy, killer," Jason begs. He whimpers into the bed. Tate turns him on his side, and gets back to fucking. "Oh, fuck," Jason groans. Tate makes sure each stroke is balls deep, hitting Jason's sweet spot.  "It's my turn," he says. Tate falls on the bed, his booty over the edge. His moans are loud when Jason gets in that man hole. Jason long fucks from the start, but goes slow. He pushes Tate's knees to his chest, making sure he can get as much ass as possible. All the stimulation pushes Tate over the edge. His juice covers the bottom half of his stomach. Jason pulls out and jerks his meat. His man milk shoots out in multiple spurts, soaking the bed and Tate. Jason falls on the bed, tired from it all. "I'm covered in cum," Tate says. And you've never looked better, Tate! LOL! Click for more Jason Matthews &  Tate Thompson