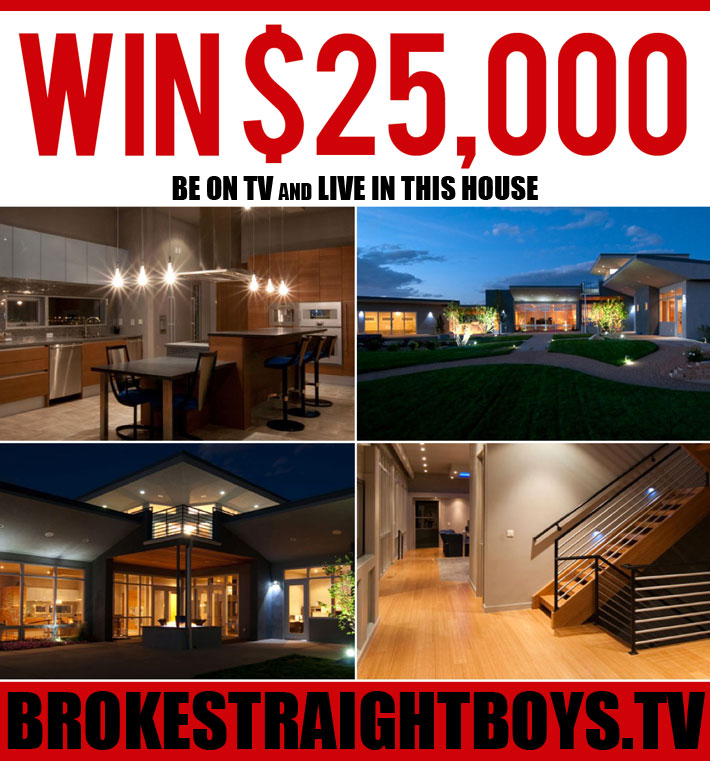 From creator of the gay porn powersite, BrokeStraightBoys comes a mainstream TV show unlike anything ever seen before. With an unforgettable location with amazing Rocky Mountain and city views, the BrokeStraightBoys mansion is located at the highest point in over 4 cities. A one-of-a-kind custom modern designed mansion with 5 bedrooms, 7 baths and a 7 car garage, this multi-million dollar property is just waiting to be enjoyed.  When you walk through the massive steel doors painted in BMW blue a huge 350 gallon salt water coral aquarium will greet you.  To your left, the bridge to the master suite with a 2000 gallon stream and Koi pond below or go right and explore thousands of square feet including the amazing indoor saltwater disco pool.
The mansion is sits at the top of over 3 acres backing to open space with almost 360 degree staggering mountain and sunset views. Chill out by the three water and fire features on the property and enjoy all the modern fixtures, Italian lighting and outdoor LED lighting. Don't feel like climbing the stairs, an elevator services all 3 floors with a panoramic views from the top deck. An indoor heated pool and hot tub and over 1/2 million dollars in landscaping… these are just a few of the things that make the BrokeStraightBoys mansion a dream come true.
RIGHT NOW, BrokeStraightBoys is casting for their very own mainstream (non-porn) television show expected to air around the world in 2013. With video submissions coming in from across the country, they will be picking 8 lucky finalists who will bid for the right to be the face of 'Broke Straight Boys'. Each of the 8 lucky contenders will spend several weeks in a mansion where they will compete against each other or be tested to work as a team in a variety of fun and crazy contests for the grand prize of $25,000.
If you are one of the lucky 8 contestants, your flights, food and accommodations will all be provided by Broke Straight Boys. We are looking for fun, good-looking, outgoing guys and girls between the ages of 21 and 28. Current models of Broke Straight Boys are eligible to submit an application to appear on the show.  Contestants will be compensated for your entire stay and also have many opportunities to win challenges to earn more money and/or prizes.
Check out all the details over on BrokeStraightBoys.tv