An Exclusive Look Inside the World of BelAmi
by Seth
George Duroy isn't just one of the most celebrated porn directors of all time.  He isn't just the owner of one of the most successful companies in all of the adult industry.  He is a father with hundreds of children.  He is a master storyteller with both his speech and his vision. He is a kind soul that brings his experiences of growing up behind the iron curtain, escaping through the communist border, going to film school at UCLA, and achieving amazing success both personally and financially, into everything he touches.  He is captivating in almost every way.
When you sit with him for the first time, it feels like you've known him your whole life.  He isn't aloof despite being uber-successful and having, quite literally, millions of fans.  This is a man that for well over a decade has been able to get hundreds of the most beautiful straight men in all of Eastern Europe to make passionate love with each other on film. They put their trust in him and he becomes more than a mentor to them.  He is like their father.  When the boys pass their mid-twenties and no longer fit the BelAmi model profile, they aren't put out to pasture.  They work as accountants, graphic artists, cameramen, drivers, and even attorneys' for the company.  BelAmi, the company, is truly BelAmi, the family.
In some ways, George Duroy, had a part in creating JustUsBoys, although he didn't know it until I told him on our recent visit with him in Europe.  It was his first films, his calendars, and photo books that we the owners, of JustUsBoys, came out to.  He took the dirty and seedy reputation of porn as it had been done previously, and turned it on its head.  His films were professional and glamorous as if a huge Hollywood studio had shot them.
The models were wholesome-looking with toned physiques and boyish faces. The work put out from the very beginning of BelAmi was romantic and believable.  Gay men from across America and the world were quite consumed by this new and unique product coming from a mysterious place in Eastern Europe.  You can count the owners of JustUsBoys as some of their earliest fans.
It was quite literally a dream come true when BelAmi asked us to come visit them over the summer.  We were not invited for merely a meet and greet, we were asked to come into the inner sanctum. From the moment we arrived at the airport until the time we left nine days latter, every detail was planned and executed with military precision.
A former BelAmi model, who is now their chief accountant, was there to pick us up from the Airport in Prague.  Soon we were standing in the Prague office surrounded by a stable of the hottest boys you've ever seen congregated in one place at one time.  They were busy hustling and bustling about working on the new BelAmi website design and rollout.  All of those models we had beat off to over the last 15 years were now the programmers and designers creating the BelAmi products.  They've gone from the stars in front of the camera to the magic behind the scenes.
Over the next nine days, George Duroy, and his handsome staff took care of our every need. BelAmi has three offices located in three different countries.  George wanted us to see the whole picture, and so after a couple of days hanging with the boys in Prague, where the main web operations are headquartered, we were off to Bratislava, Slovakia. There is obviously something in the waters of the Danube, which flows through Bratislava that has created a paradise where male perfection is glimpsed in the faces of every boy you see walking through the city.  It is a magical place that has been the home for the talent and filming side of the BelAmi family.  Once again, everything was perfectly arranged for our visit.
If we wanted to go somewhere, a BelAmi driver was ready and waiting.  If we wanted to take a tour of some historical part of the city, a BelAmi tour guide was there to escort us. If it was time for breakfast, lunch, or dinner, we were provided with company for each meal throughout our nine-day visit.  From dinner with Yves Carradine in Prague, to dinner with Lukas Ridgeston and Johan Paulik in Bratislava, we were treated to a feast for the stomach but also for the eyes.  So many of the boys we had admired on screen were now breaking bread with us: Brandon Manilow, Josh Elliot, Dolph Lambert, the list goes on and on!
But among all the boys and all the sites, our favorite times all came back to the time spent with the mastermind that created this Garden of Eden.  George Duroy has lived a thousand lives.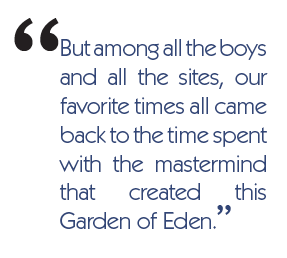 His youth was spent growing up in an oppressive cold communist society, but even there he excelled with the creation and production of a popular television show.  He went on to write a play, which to this day, holds the record for the most tickets ever sold to a theatrical performance in Bratislava.  It was through his popularity as an entertainer, that he found his escape from the communist regime.
During the height of his popularity as a mainstream entertainer, he was asked to write something special for a major military retreat that would be attended by the top military brass.  The event was a spectacular success and George was asked what he wanted as a token of appreciation.  He asked for a week pass to visit Switzerland.  It was time for his escape. George Duroy would not return until after the Iron Curtain fell.
The whole tale would require a novel to be written, but believe us when we tell you it's a story right out of a cold war spy novel.  Many of us can only imagine what it would be like to be walking through a park in Los Angeles only to be confronted by communist agents saying, "We know where you are and you best keep your mouth shut about what you know if you value your mother still living in Bratislava."  George has lived through such harrowing events.   But, it is his Buddhist nature and the good Karma he has in abundance that always sees him through.  Despite the warnings, his mother remained safe and George was able to take the film degree and experience from his time at UCLA to return to Bratislava to start filming some of the world's most beautiful boys.
Our trip concluded with a look at the expanded operations of BelAmi.  From Bratislava, we were off to Budapest, Hungary to see the relatively new office BelAmi has established there. By this time, we had become fast friends with George.  He is like an open book with nothing to hide.  There is no pretense.  There are no ulterior motives.  Having no barriers to communication, we all grew close quite quickly.  Budapest was an amazing city.  George acted as the tour guide this time, taking us to castles and the most amazing restaurants. He has a twinkle in his eye and when he is excited to show you something or tell you something, his energy is immediately contagious to everyone around.
George had arranged a special surprise for us during our first full day in Budapest. BelAmi has recently started shooting gorgeous Hungarian boys and George had arranged for the crème of the crop to do a photo shoot for us to look in on. The shoot was nothing less than the European answer to Abercrombie and Fitch's All-American boy. The boys are remarkable in every way and the shoot was playful and feisty. They really loved showing out with each other and we were happy to play the part of the voyeurs snapping our own pictures along the way.
The world of porn often has a seedy overtone causing many to think of it as part of the underbelly of society. It's hard when you are on the outside of this industry to see the reality of it on the inside. BelAmi is a company that any of us would be thrilled to work for. They take care of their employees and their employees have unbridled respect and devotion in return to George and the BelAmi brand. George isn't a "porn lord" so much as a philanthropist giving these boys a wage and a lifestyle that they could only have seen on American television without him. We are happy to call George a friend of ours and we thank him and his incredible staff for the amazing time we had with him during our trip. More importantly we thank him for being an inspiration to us for over a decade.
Be sure to see all of BelAmi's galleries on our website by clicking HERE