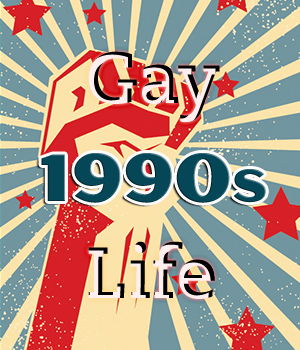 The 1990's were dominated by politics. In 1993, President Clinton introduced the detested ""Don't Ask, Don't Tell"" policy for gay and lesbian service members. Three years later, Congress passed the Defense Of Marriage Act (DOMA), fearing Hawaii would legalize same-sex marriages and other states under the Constitution's full faith and credit clause, would have to recognize the marriages.  With DOMA, the federal government denied recognizing same-sex marriage and permitted states to do likewise.
It was also the 90's when Colorado voters amended their constitution, prohibiting counties or cities from passing sexual non-discriminatory ordinances.  However, the U.S. Supreme Court handed down a decision in 1996, which was a clear victory for gay equality.  In response to the amendment, the Supreme Court ruled one group of people could not be denied rights enjoyed by other citizens.
Another victory followed in 1998, when President Clinton issued an executive order prohibiting the federal government from discrimination in hiring, based on sexual orientation.
But the 90's ended darkly. On Oct. 6, 1998 two men brutally murdered 21-year-old Matthew Shepard. They beat him severely and hung him on a fence to die.  Activists soon renewed efforts to pass federal hate crime legislation, renamed the Matthew Shepard Act. This year marks the 10th anniversary of Shepard's murder, but the Shepard Act remains stalled in Congress.